The Image of Construction Conference
21 November 2019 – The Gowth Hub Cheltenham
We have a great line up of speakers delivering presentations and workshops. One or two speakers are still to be confirmed so you can look forward to a packed morning of interesting debates about the Image of Construction.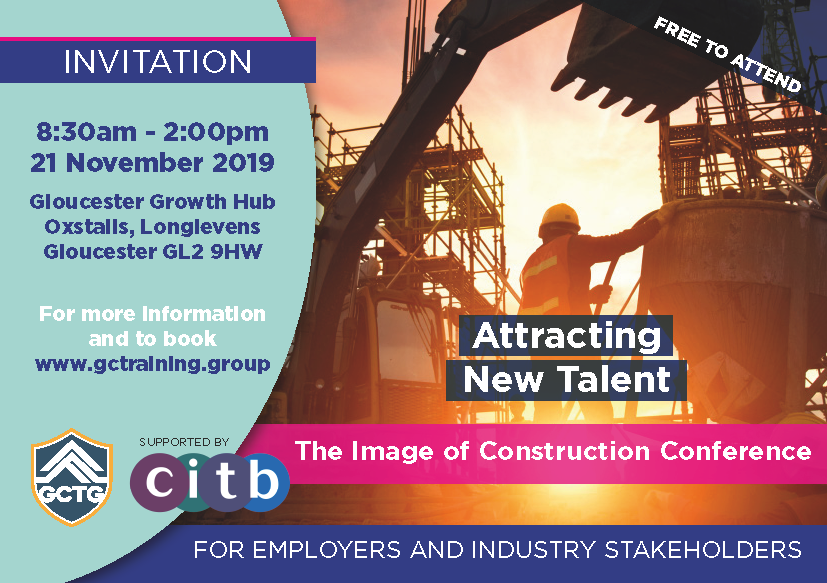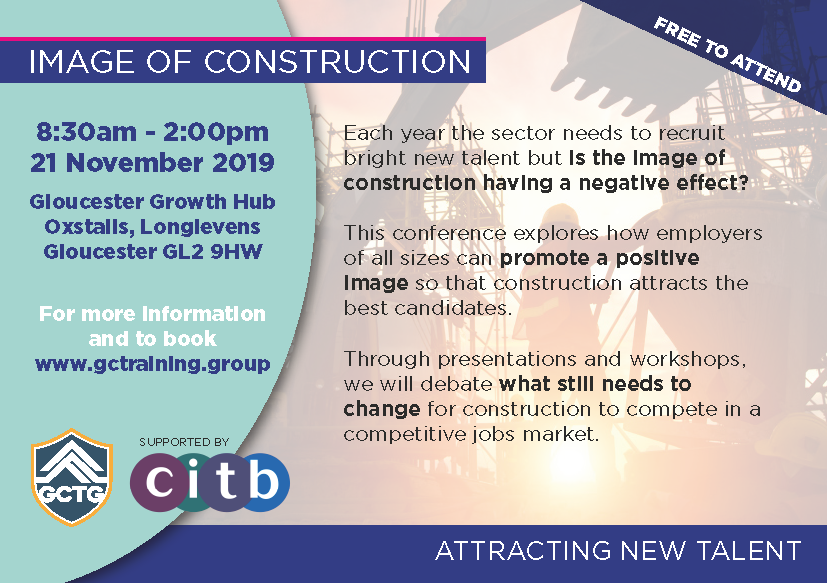 Attracting New Talent
The Image of Construction Conference
Construction companies of all sizes are invited to a conference in Gloucester in November to discuss how the sector can promote a more positive image to help attract the talent it needs for the future. 
The Image of Construction Conference, taking place on 21st November 2019, will consider how construction can attract new talent and position itself as a dynamic modern industry which makes a significant contribution to the UK economy. Construction companies, professional bodies, trade groups and industry stakeholders are all invited to participate. 
As the jobs market becomes more competitive, having a poor image will reduce the number of good quality candidates considering careers in the industry and may lead to negative career advice from schools, parents and other influencers. This conference provides an opportunity to share ideas on how to change stereotypes and attract generation z, as well as to network with others in the sector. It will comprise a mix of presentations, breakout sessions and workshops and is free to attend.
The conference explores two themes. Firstly, it will consider how the industry has changed for the better and what can be done to promote a positive image to the wider community. Secondly, it will explore what still needs to change to improve the image of construction so the sector can compete effectively in the jobs market. 
Presentations and workshops include 'Creating a diverse construction industry', 'Promoting a positive image of construction' and 'How important is being digital?' The CITB will share its ideas on making the industry an attractive place to work and delegates will also hear how construction is perceived externally as a career choice. 
The event is the second conference to be organised by the Gloucester Construction Training Group (GCTG), a not for profit membership organisation funded by the CITB. Last year's conference discussed practical solutions to the skills shortage in construction and was attended by more than 60 people. 
"Construction contributes around 6 per cent of UK GDP and some 7 per cent of UK employment but it's rarely promoted as a positive career choice," explains Gerald Crittle, spokesperson for the GCTG. "We need to work together to replace the old stereotypes of a male dominated, unskilled, muddy workplace and showcase the modern construction industry and the range of careers available. 
"If we don't show that construction is an inclusive, exciting place to work, we won't attract the talent we need, and we'll be at the back of the queue for government support and funding."
The Image of Construction Conference takes place on Thursday 21st November 2019 from 8.30am to 2pm at the University of Gloucestershire Business School. 
Thank you to the following organisations for supporting this event: