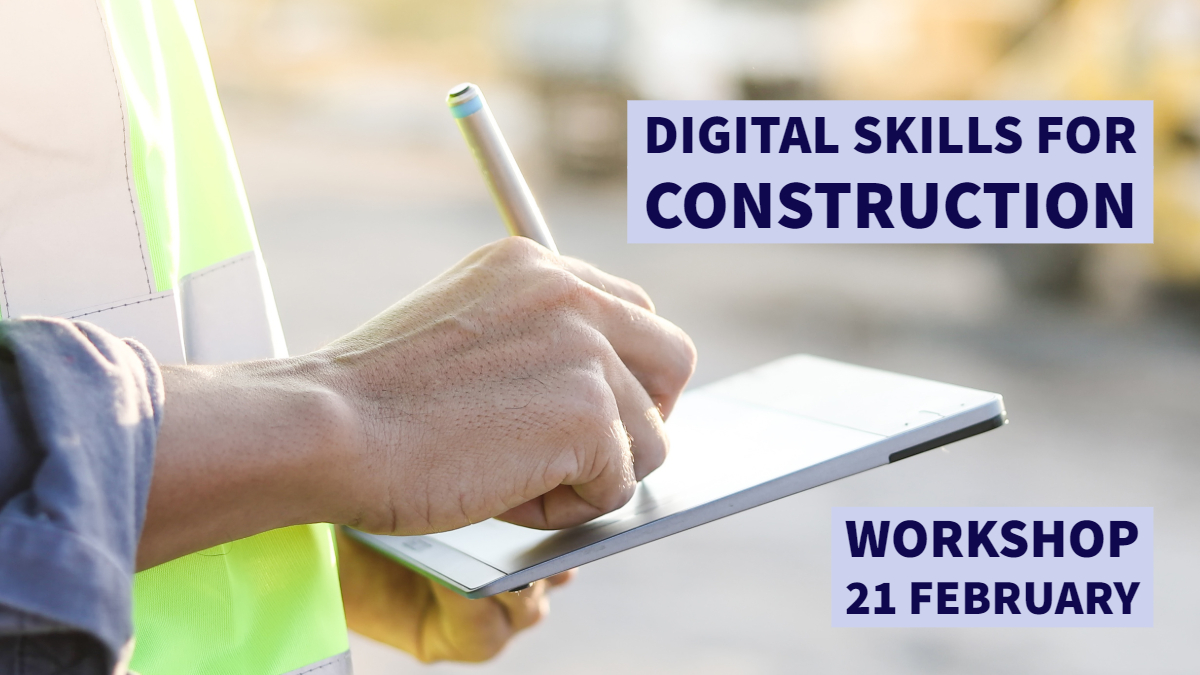 Digital Skills For Construction Workshop
Digital Skills For Construction Workshop
Digital technologies are all around us in everyday life, from phones and tablets to drones and virtual reality. Yet the construction sector has been slow to embrace them. This is in spite of growing general awareness amongst businesses of the opportunities these technologies offer to improve productivity, increase efficiency and attract a younger and more diverse workforce. Digital technologies bring advantages at all levels – for individuals and employers – and crucially, they enable companies to remain competitive.
The risks of not adopting digital technologies cannot be understated. The construction industry is liable to become marginalised, allowing competitors with technological expertise to enter the market and potentially squeeze out the traditional players.
How can we bring about change? Digital transformation requires both a flexible mindset and an understanding of digital tools and data.
For business leaders, this means: knowing when to use it – and when not to; actively considering the problems it could solve rather than adopting technology for its own sake; understanding how to embed it and communicate its benefits; being clear on the information management needed to support it.
Digital Skills for Construction is a hands-on workshop for companies of all sizes and types, designed to help you discover digital tools to help you grow your business and improve its performance.
Interactive sessions led by digital experts will guide you through the process of identifying the software solutions that are right for your business. As well as looking at industry-specific software for project management, sessions will explore the diverse business challenges that can be addressed through digital technology, from customer data and accounting to communications and stock control. You will hear real-life accounts of problems that have been overcome with the support of digital technology and swap ideas with industry colleagues who are tackling challenges similar to your own.
You will also discover how to get the most out of commonly used tools and devices. Most companies have MS Office 365, smartphones and tablets for example, but use only a fraction of their capabilities.
Funded by the CITB, the Digital Skills for Construction workshop will take place on Thursday 21st February, at Get Trained, Stonehouse, from 8.30am until 2.00pm.
Booking is essential because spaces are limited, so to access this vital expertise, go to https://digital_construction_workshop.eventbrite.co.uk for full details.
As global competition increases, construction companies must be constantly on the lookout for opportunities to improve their competitive position. As a business leader, you need to be able to think creatively about the problems you face and their solutions. Join us to discover the digital tools that will increase efficiency and raise productivity: even the smallest improvements can pay handsome dividends.
About Gloucestershire Construction Training Group
Gloucester Construction Training Group (GCTG) was established in 2004 and is a not for profit membership organisation funded by the CITB. It works to support training within the construction sector and promote construction as a positive career choice. Membership is open to all construction companies based in Gloucestershire and the M4 corridor in North Wiltshire and costs £50 + VAT for 12 months. For further information about membership email info@gctraining.group or call 07543 185045.
For further information about this press release please contact Gerald Crittle on Geraldc@gctraining.group or phone 07543 185045